A robust domestic industrial foundation demands capacity at every step in the value chain, including and especially those niches upstream that don't make it into newspaper headlines.  In this piece, Cleveland Deburring Machine Company details one of those, its critical role in modern manufacturing processes, and the imperative of maintaining trusted and tailored systems for it.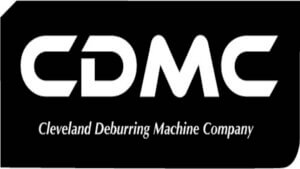 A burr is a small piece of material or a raised edge that remains on a workpiece after a manufacturing process. But that simple definition belies the wide range of burrs, and therefore the complications of removing, or adjusting for, them: Burrs are as diverse and unique as the material removal processes that create them. Combine this with the huge variation in materials used in today's manufacturing world, as well as the variables that can be seen from tool wear, and the possibilities are endless…  This unique problem creates a need to comprehend a wide spectrum of manufacturing processes and techniques to best approach a deburring application.
Common items found in everyday life have burrs remaining on them. The challenge and effort of consistently removing burrs has led to engineers developing new methods of avoiding the deburring process altogether. In sheet metal components, the fabricator will simply fold or roll the edge of a sheet over to effectively "hide" the burr. In other cases, a component that goes into an assembly that will be enclosed might not require deburring, provided that the burr cannot fall off and create a mechanical issue within the assembly.
However, in most cases a burr creates issues that must be addressed: In machinery, it might prevent a component from rotating or sitting cleanly and efficiently. Or a sharp edge could inadvertently snag the hand or arm of an unsuspecting worker. In commercial applications, burrs' rough edges create a dangerous working environment, one with risks for mechanical functionality as well as people. In applications where the material will become hardened or heat treated, burrs also create a stress point that can sometimes cause serious issues and failures in the process such as cracks. Hence the need for deburring.
What is deburring?
Deburring is an age-old step in the manufacturing process, and what we would call "the last step in the manufacturing process."  Once again, the diversity of manufacturing processes and materials demands a wide range of media and deburring processes to provide a reliable solution.
Media:  Brushes (steel wire and nylon-abrasive), abrasives (grinding wheels, sanding tools, etc.), and cutting tools (filing tools, rotary cutting tools, etc.) are all used in the process of mechanical deburring.
Application:  Each type of media is applied in a variety of ways. Often, the severity of the burr and other part-specific details will limit the media that can is used. The goal is always to use the most efficient media that will last the longest between replacement. Down time kills.
Controlling the two together:  Like most manufacturing processes, the media or tooling used is perishable. It is critical to design the process of deburring in a tailored way that allows for effective control, as well as wear compensation.
Deburring's importance in modern manufacturing
The process of deburring has been in use since the time humans began to manipulate metal to create tools and implements. Images found in medieval manuscripts depict the deburring process as a necessary element of sword and tool making.
In the modern environment, mechanical deburring – which offers automated and consistent processes — has generally replaced manual or hand deburring. Reliable and efficient, mechanical deburring is employed in a range of commercial and manufacturing operations, particularly in high-volume production environments.
There will always be a segment of the manufacturing population using hand files, air tools and brute force to remove burrs. But the rest of us, adapting to technology and development in manufacturing processes, now see deburring as a core part of the process.
That is even more the case considering that modern industrial demands and trends make deburring particularly significant. Burrs have caused all sorts of complications in assembly and function of finished parts; today's cycle times are shorter, quality is tighter, and tolerances are too. To have a capable deburring process, critical points upstream must be managed to ensure reliable and robust burr removal.
Moreover, effective, and efficient deburring systems allow competitive companies to redirect their rapidly changing workforce to tasks more meaningful than deburring. Safety, quality, profit, and consistent output as well as human morale all benefit from putting down the files and installing a dependable, well thought out deburring system in the manufacturing process.
Deburring-centric solutions
Because deburring is a precise process, Cleveland Deburring Machine Company strives to be a specialized expert in deburring solutions, not a jack-of-all-trades. As a family-owned company, CDMC offers more than one hundred years of collective deburring experience. Our team of experienced designers and manufacturers create deburring equipment designed to meet the unique technical needs of our customers. This includes an extensive range of well-tested deburring methods supported by alliances with companies that specialize in other areas of metal finishing, ensuring that CDMC can assist with any deburring application.
CDMC takes a customized approach with each manufacturer, beginning with an application assessment. After thorough testing in our applications lab, customers receive an application report complete with process details and photographs in 3-5 business days for standard application evaluations.