S&P Global PMI data, released October 24, showed a near-stalled US manufacturing sector. The preliminary S&P Global US Manufacturing PMI fell to 49.9 from 52 in September, well below expectations of 51.2. The decline in US manufacturing activity is expected only to accelerate in the months ahead: The bulk of current production is being undertaken by firms addressing backlogs of old orders, rather than new ones.
US Manufacturing Purchasing Managers Index (PMI)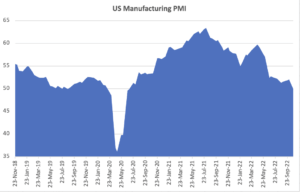 Source: Investing.com
The drop appears to be a function of two interrelated trends. First, new orders are shrinking: Manufacturers registered lower demand as the effects of high inflation and stockpiling kicked in. Second, a strengthening dollar has made US exports less competitive, forcing the sharpest decline in export demand since May 2020.
The Manufacturing Purchasing Managers' Index (PMI) measures the activity level of purchasing managers in the manufacturing sector. Readings above 50 indicate expansion in the sector; below 50 indicate contraction.
(Photo by Skitterphoto/Pexels)